FORT HOOD, TX- Hell On Wheels Avenue, a westbound one-way road overlooking nearly seven miles of motor parks here, recalls a time when the 2nd Armored Division called the Great Place its home.
On April 8, the 2nd Armored Division (Forward) Association left another lasting milestone with the dedication of a monument in Fort Hood Memorial Park.
More than two dozen veterans and their families were on hand to lay a wreath at the site of the etched black marble monument and remember a time when the Hell On Wheels Division protected northern Western Europe for the 'North Atlantic Treaty Organization during the Cold War era, up to Desert Shield and Desert Storm.
They lost eight of their members during this conflict, and each of these names was read during the ceremony after the placing of a wreath of red, white and blue flowers. Seven of the dead served with the 1st Battalion, 41st Infantry Regiment, and one with the 3rd Battalion, 66th Armored Regiment.
"There's a lot of history here with the 2nd Armored Division," said retired Lt. Col. Paul Dulchinos, commander of 2nd AD (Fwd) Assn., and who served as emcee for the inauguration. "It feels good. Looking at the monument, I think it's beautiful. It's a beautiful park. I'm glad Fort Hood did this for all units, sort of bringing them together in a central park instead of being scattered, and anyone can come here and honor the units they served with.
Dulchinos also paused to honor former Sgt. James Purcell, calling him "a catalyst in creating an organization to remember those forgotten warriors of the 2nd AD Forward.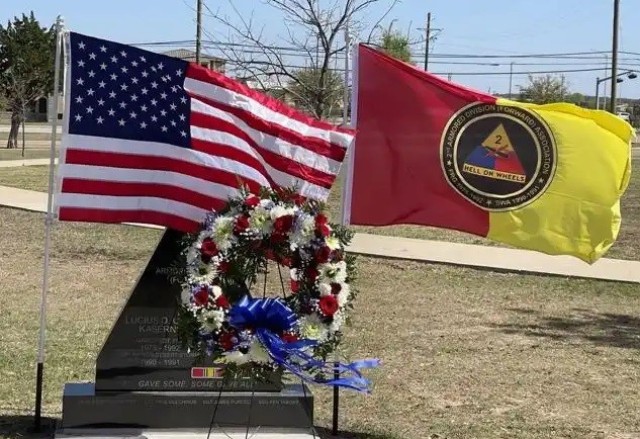 "He wanted to create an environment that was conducive to re-establishing and maintaining what he called 'fox friendships,' created in (our) units," Dulchinos added. "Although he is not here with us physically, I know he is with us in spirit, watching us with a big smile as we fulfill his dream."
Purcell died in January.
The event's keynote speaker, author, historian, and retired Colonel Tom Vossler said he and his wife, Barbara, traveled 1,600 miles to watch the dedication ceremony from their home in Gettysburg, Pennsylvania. Pennsylvania. The trip included a short detour to North Carolina, where Vossler said he saw Purcell laid to rest in a veterans cemetery.
The Vosslers lived and served at Fort Hood in the mid-1980s. He said he and his wife were amazed to return to central Texas nearly four decades later and see how much things had changed… for the best.
"(We talked) on the way home, as we were going through Waco and Temple, how we used to drive there for dinner," Vossler said, "because there was no just not much here. This is a major change.
Besides seeing the changes in the greater Fort Hood area, Vossler said it was even better to be among his soldiers again, most of whom were much younger than him when they served in the 2nd AD. in the 1980s and held the line for freedom during the Cold War years.
"We won this war," Vossler said. "We over-trained the Russians."
"Sometimes we say, 'legacy is what you leave behind,' and that's probably an inadequate way to define that word," said Army Garrison Commander Colonel Chad R. Foster. American – Fort Hood before welcoming the group to the installation. . "A legacy is what others take away from you and pass it on. It's a chance to be a part of that, a chance to be with people who have…gave people like me…and all the soldiers who serve today, (a part of themselves) and we l 'let's take it with us and carry it forward.