How a member of the Gold Star family honors the vets around them – and finds solace in the public lands dedicated to them.
I was born on Memorial Day, but it would take me 25 years to fully understand why this federal holiday exists.
I come from a family that celebrates its military history. My father was born to Albanian immigrants in Detroit, Michigan, and viewed his service as a gesture of gratitude for his country's acceptance of him. He also considered it a form of kiss — in our culture, a strong oath of honor. He was a proud Marine, and growing up, I saw the eagle, globe, and anchor symbolizing the Corps on various objects throughout the house. By the time my only brother, Nicholas Oresti Cherava, enlisted, my father had passed away, but his commitment to sacrifice, selflessness and camaraderie still resonated. Nicholas eventually chose to be stationed at the same bases where our father served, following in his footsteps.
Memorial Day has always been important to my family as a time to honor the dead and remember all those who have passed away in our lives. But it's a summer phone call and a terrible day in October that I think of most when I think about the meaning of service and sacrifice.
I was living in Washington, DC, in 2005 as an intern for the NPCA, and on a hot and humid late summer weekend, I attended a Greek festival in Northern Virginia. I had promised my brother that I would call him that day, and he was on my mind. After enjoying food and music, I stopped at the Orthodox Church to light a candle in memory of my father and pray for Nicholas, who was about to deploy for the second time to Iraq.
The church was empty except for a few staff who were receiving and preparing to store a relic of the patroness Saint Barbara, known to protect members of the infantry, as well as people working in other professions, especially those facing danger and sudden death. When I told the priest why I was there, he beamed and offered the cloth containing the relic for me to touch. Then he says a prayer.
That day was like a sign – the affirmation I was looking for that my baby brother would be fine.
After leaving the church, I visited Arlington Cemetery, where I walked a trail to the U.S. Marine Corps War Memorial, a national park site dedicated, according to its website, to the "dead Marines of all wars and to their comrades in other services who have fallen fighting alongside them. It includes the names and locations of every war and military conflict the Marine Corps has served in, and although my generation is not yet listed , years later, Iraq and Afghanistan would be added.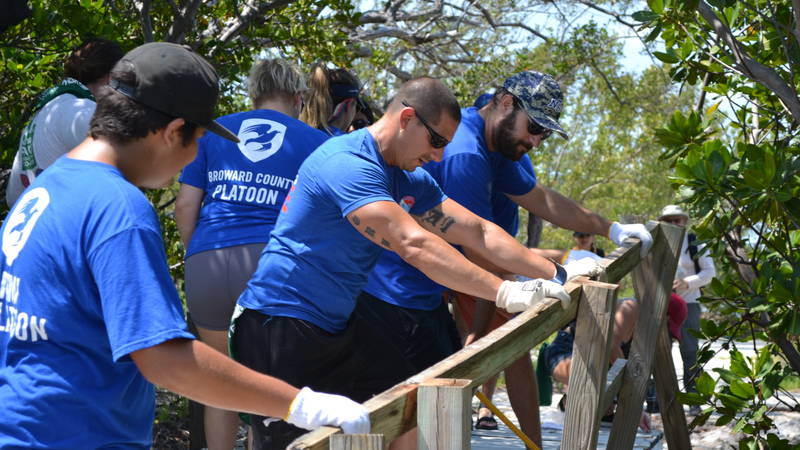 NPCA at work
Working with Veterans to Protect National Parks
The NPCA Veterans Program meaningfully engages the military community—including veterans, active duty, reservists, and military families—to support national parks through service and advocacy projects.
See more >
That's where I called Nicholas. I was ecstatic when he replied, and went on and on about what had just happened, describing the church and how I had arrived at the right time to commune with the patron saint who would watch after him. Nicholas had been named after an Orthodox church in Detroit that my dad attended when he was younger, and it all made sense to me. "You'll be safe," I told her enthusiastically.
As I tried to catch my breath, all I heard on the other end of the line was silence. "Yeah," he finally said.
I changed the subject and told him that I had waited to call him until I got to the memorial because it was such an iconic symbol of the United States Marine Corps. I read some of the inscriptions aloud to him as I walked around the sculpture, which depicts a famous World War II Pulitzer Prize-winning photo of six Marines hoisting the American flag in Iwo Jima, Japan. We shared updates of our lives as I stood by the statue, and we agreed that when he returned he would drive to DC and we would see the memorial together. But that day was the last time I would hear his voice.
On October 6, Nicholas and three other Marines were killed by a roadside bomb. He was 21 years old. Prior to his deployment, my brother had chosen in his required planning documents to be buried in our hometown of Michigan. Although he was buried far from my home, the memorial remained a sacred place where I could go when I wanted to remember and feel close to him. Being part of a Gold Star family – those who lose an immediate family member to war – made my connection to them even more intense.
I stayed in DC for several more years and visited the site several times, alone, with my sister, and even once with a young man who had served with my brother and was with him that fateful day. This memorial and others like it provide more comfort than many people realize. For me, it offered comfort and a sense of continuity. When I couldn't visit my brother's grave, it was the best thing to do.
Places like this don't just tell the stories of the past, they become an important way for visitors to connect their memories to the present. Before moving to Colorado at the end of 2011, I returned to the Marine Corps Memorial every October 6 with flowers and a penny in Nicholas's memory. These offerings joined other tokens of immeasurable remembrance. I would sit for a moment or two, and in my heart, I knew he knew I was there.
National parks were important to me growing up, and I have many fond memories of camping with my family. But I've never needed a place emotionally like I once relied on this memorial. This site has been an important part of my healing process, and I am grateful that it is run by the National Park Service so people can continue to find that same comfort.
I know that whenever I return to DC, it will continue to be there for me, and I can stand at its marble base and quietly say, as I always do, "Semper Fi."