Content of the article
A cemetery is a place to bury, remember and honor our deceased loved ones. Cade, Campbell, Hess, Madill, McLean, Troops – these are all Caradoc Township cemeteries with surnames. Most were established almost 200 years ago and are now inactive, with the exception of Madill Cemetery and Memorial Gardens, which opened at the turn of this century.
Content of the article
Our pioneer cemeteries were often family cemeteries because the need was immediate: one of the first settlers was killed by a fall from a tree, a mother and child died during childbirth or a new immigrant succumbed to cholera .
The first burials were often done on a sandy hillock. Some of these family cemeteries remain unmarked and unregistered, while others had the separate burial areas of the farmhouse and churches later built next to them.
Establishing a cemetery is much more complicated these days. In Caradoc, Ron Madill, owner and operator of RC Madill Funeral Home from 1969 to 1994, spearheaded the purchase of land and the development of two cemeteries. This is a 10 year project that resulted in the unique creation of a side by side Protestant and Catholic cemetery.
Shortly after Ron arrived at Mount Brydges, he was asked to take on the role of selling graves and marking their locations at Mount Brydges Cemetery and Sacred Heart Roman Catholic Cemetery. The two were nearing capacity in the late 1980s and Ron alerted both cemetery boards of the need for additional burial sites.
There was no way to expand either cemetery. Any new location had to be close to Mount Brydges, be flat, well-drained land, be a land use acceptable to adjacent owners, and be financially affordable. Naturally, farmers weren't willing to sell prime farmland, but after a two-year search, Jim and Jackie Morningstar offered to cut 17 acres off their hobby fruit farm on McEvoy Road near Century Drive. .
Advertising
This ad has not yet loaded, but your article continues below.
Content of the article
Then began a decade-long 20th century approval and development process. The Middlesex-London Health Department quickly approved the use of the cemetery land in December 1992, but it was in 1999 that the Township of Caradoc confirmed the expansion of Mount Brydges Cemetery on McEvoy Road. The necessary Township approvals by the Committee of Adjustment and Planning Committee were time consuming and entailed considerable legal costs. The municipal planner focused on driveway access, land use changes, soil drainage and environmental concerns. With municipal approval in early 1999, the provincial consent certificate was issued later that summer.
The physical layout of the cemetery also spanned several years, between 1997 and 2001. Initially, the McEvoy Fence was cleared and seeded, and ornamental trees were planted. Culvert work was completed in 1998, with further grading and grass planting in 1999.
In 2000, Mount Brydges Cemetery was able to complete the excavation of the road and obtain approval from the St. Clair Region Conservation Authority.
In October 2000, two acres of cemetery land was transferred to the Roman Catholic Diocese of London. The plan for the cemetery tomb was submitted to the Land Registry Office and the signage was erected in the spring of 2001. Ten years of planning, approvals, volunteer work and approximately $ 60,000 in expenses ultimately resulted in two new cemeteries.
Advertising
This ad has not yet loaded, but your article continues below.
Content of the article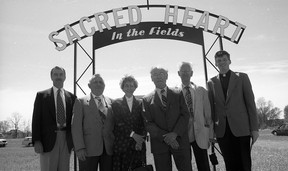 The official opening ceremonies of the Sacred Heart in the Fields Roman Catholic Cemetery and Mount Brydges Memorial Cemetery and Gardens were held on May 6, 2001. There was good participation from members of the cemetery board of directors and officials. of the local church, as well as the mayor of Strathroy-Caradoc, Mel Veale. , MP Rose-Marie Ur and people from the community.
The following years saw new landscaping, tree planting and signage. In 2012, the Mount Brydges Cemetery Council recognized Ron Madill's leadership by renaming the cemetery Madill Cemetery and Memorial Gardens.
Many of our pioneer cemeteries had become overgrown and fallen into disrepair over the past century. Thus, the funerary stelae were dismantled, repaired and often placed in the walls of a cairn. But still, these can be secluded places with few visitors. Madill Cemetery and the Sacred Heart in the adjacent fields are places of celebration of life, with daily visitors, abundant flower arrangements, and LED lights lighting up the evening darkness.
Ron Madill's commitment and perseverance has allowed us to continue to honor our deceased family members in a local rural setting. Although they took 10 years to complete, the new sites will serve the community for much of the next century.
–
For more information on our activities, visit the Strathroy & District Historical Society website http://sdhsociety.weebly.com/
Access our new Facebook page through our website to learn fun facts, read stories, and view photos from our community's history.